Midwest Family Summer Ideas: Weekend Getaways At Big Splash Adventure Indoor Water Park
It's almost here: the last day of school! It has truly been a long nine months, and the kids and I are anxiously counting down the days to being free from alarm clocks, late-night studying sessions, and driving all over town from activity to activity.
As a family, we have gone through a lot during this school year, so I wanted to reward all of us for sticking it out and hanging in there when times got tough, and for the hard work and dedication we've shown to our individual goals as well as our family goals. And since our summer schedule is shaping up to be just as hectic as the Fall and Winter months were, I decided that a quick weekend mini-vacation would be a great way to unwind, while celebrating at the same time.
.
To make our weekend happen, I looked no further than Big Splash Adventure.
.
Located in French Lick, Indiana, Big Splash Adventure Indoor Water Park & Resort offers an exciting water park adventure for the entire family! Experience tropical luxury in a family friendly environment! Creating an easy weekend getaway was simple with their 154, smoke free and pet free, family friendly rooms and suites – many featuring bunk beds. Plus, there are lots of additional fun activities families can engage in both on and off the resort premises. The location has something for all ages, which is definitely a huge plus for us.
.
.
The best part of Big Splash Adventure is that families can enjoy 40,000 square feet of water park fun with no weather worries! The water park area is enclosed in a beautiful glass structure – one of the few retractable roof water parks in the world!
 .
Since we live in the Midwest and the resort is only a short drive away, I have booked a weekend stay at the resort for my family this summer, and we cannot wait to go! After nine grueling months of school buses, homework, exams, sports, and evening activities, it is going to be wonderful to kick back, relax, and take in some water-splashing fun as a family!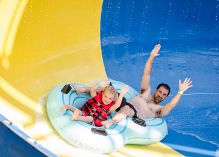 .
Want to treat your family to a fun, fast, tropical getaway this summer too? Well you're in luck – I have some deals for you!!
 .
Receive $4 off day pass admission OR $20 off overnight stay at Big Splash Adventure Indoor Water Park and Resort with this exclusive coupon below from US Family Guide!
http://usfamilycoupons.com/coupon.php?regionid=75&bid=11154&dealid=1227
.

.
To learn more about Big Splash Adventure Indoor Water Park and Resort:
~Visit them on their website
~To see operating hours and date availability for booking, click Here
~Connect with Big Splash Adventure on Facebook and Twitter
Big Splash Adventure